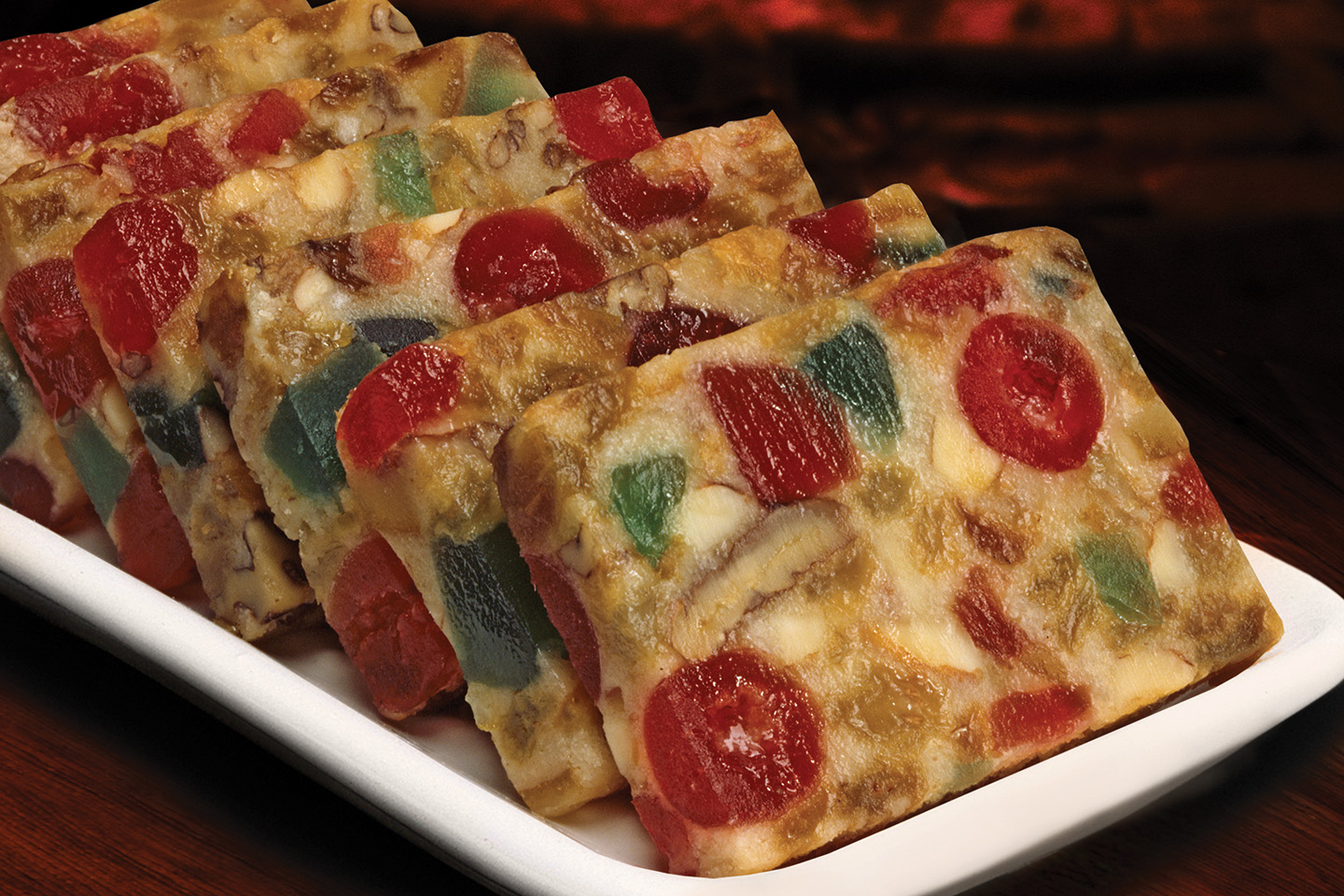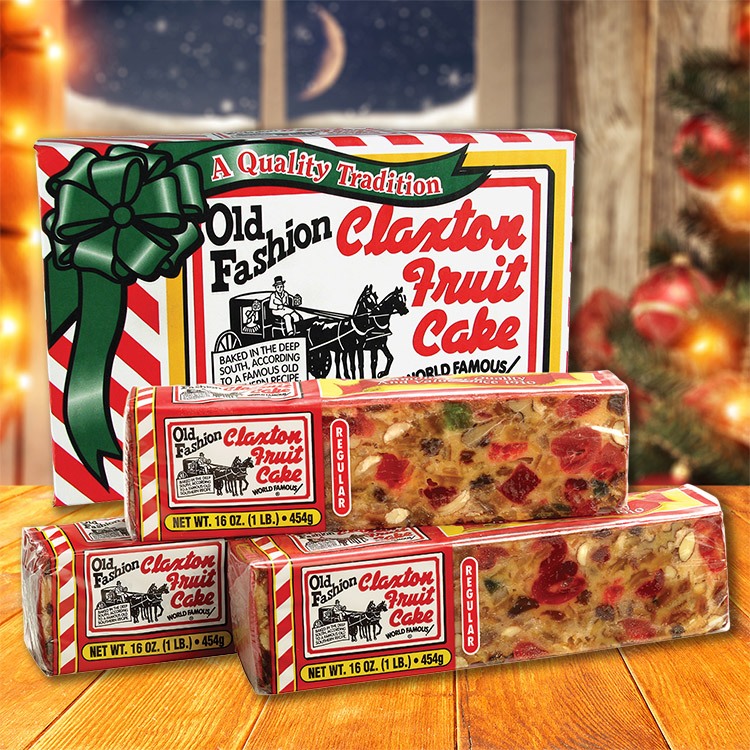 Claxton Fruit Cake
A long-time customer favorite, our special offer of three 1 Lb. Claxton Fruit Cakes are a perfect way to stock up for the holidays. We use only the finest preserved fruits and freshest pecans and nuts in our time-honored recipe. We proudly share our juicy fruitcakes with families and friends across North America, and can't wait to join yours this year!
Purchase this offer and you will have three individually wrapped, 1 Lb. fruitcakes, done up in our hallmark red-and-white striped cartons that have become a familiar holiday sight in many homes across North America. Our clear wrapping allows you to see the thick cross-section of fruits and nuts densely nestled in our sweet cake loaf.
Buy this for yourself, your friends, employees or family, or maybe a mixture of all three! Our 3, 1 Lb. Claxton Fruit Cakes allow you to have three perfectly sized cakes to enjoy and to share.
Looking to get a bit spicier this year? Our Dark Recipe Claxton Fruit Cake has all the nuts and fruit you know and love, enhanced with an extra dollop of thick, sweet molasses, raisins and spices, to give it that extra depth and zing that so many love.
Want it a bit lighter? Our Regular Recipe Claxton Fruit Cake remains a fan favorite and a constant crowd pleaser. With 100 years of recipe perfecting skill behind us, it's still just as deeply flavorful as you remember it from when you were a kid.
To serve, chill cakes individually and remove when ready to serve. Thinly slice the dense loaf with a serrated knife, taking a bit of time to nibble at any bits that fall to the side and taste the flavors in each succulent bite. Serve it with room temperature butter or with a side of very sharp cheddar. Want to try something for the kids? Try crumbling our Claxton Fruit Cake over vanilla ice cream for bursts of unexpected flavor in a chilly treat.
3-1 Lb. Claxton Fruit Cake
A customer favorite for decades, our three one-pound size features three of our individually wrapped cakes, packaged in our hallmark red-and-white striped carton. Chill and unwrap one cake at a time for maximum freshness. Available in both Regular and Dark recipes.
---
Regular or Dark Recipe?
Our "Regular" fruit cake recipe, a traditional favorite, is more popular than our "Dark" variety; however, the "Dark" cakes contain the same high fruit-and-nut content. The difference lies in the molasses, spices and natural, sun-dried raisins which give the "Dark" cakes their distinctive, darker color. Our "Regular" fruit cakes feature golden raisins and imitation rum flavoring. The "Regular" recipe outsells the "Dark" by approximately eight-to-one, but both offer fruit cake "at its Claxton best!" For initial orders, we recommend the "Regular" recipe.