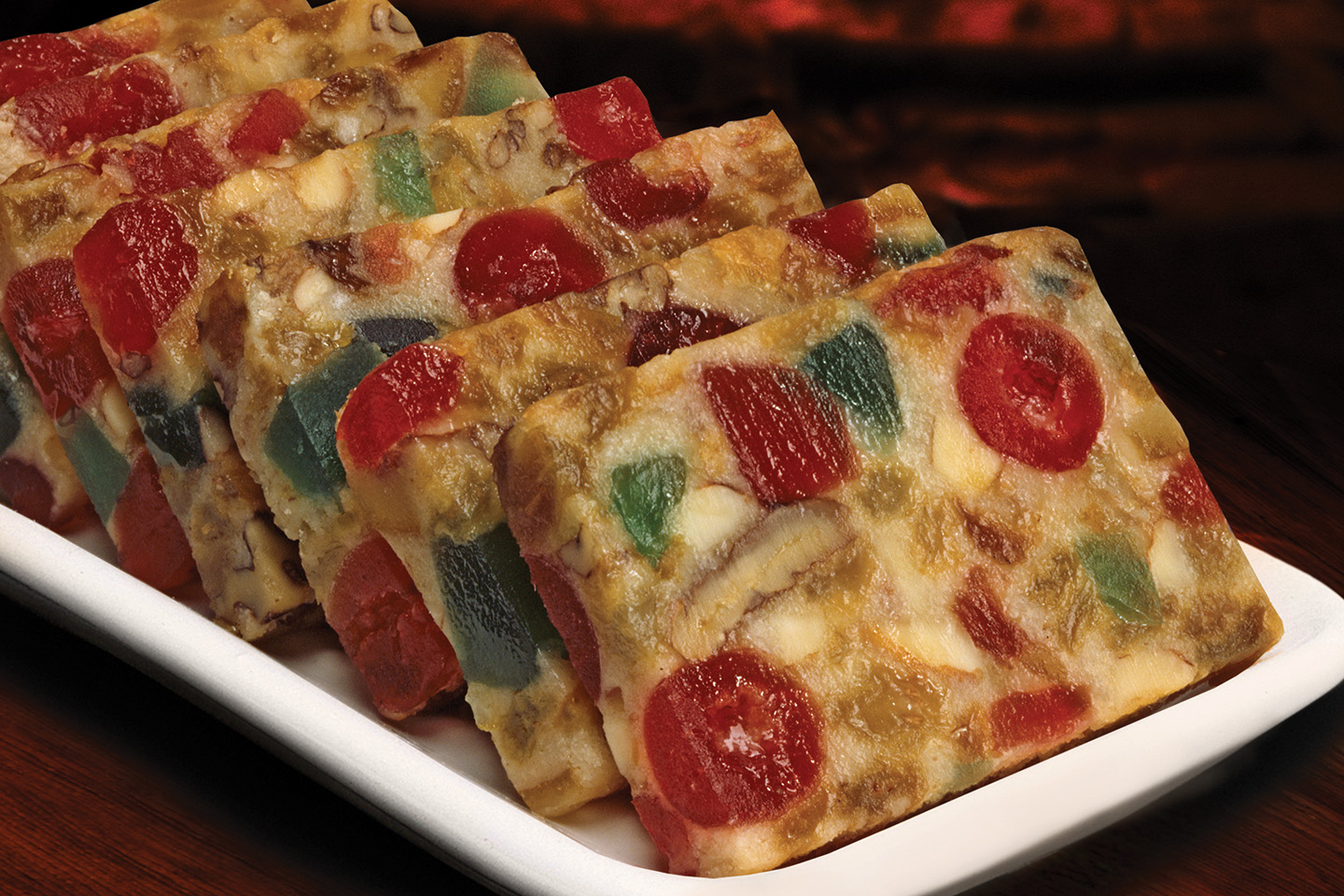 Claxton Fruit Cake....Simply The Best!
A blend of nature's finest fruits and nuts, Claxton Fruit Cake has enjoyed a worldwide reputation for quality and value for over 100 years! This year, we are also pleased to present our Claxton Classic Supreme Fruitcake which features a hand-decorated top of delicious fruits and nuts. If you love Claxton Fruit Cake and Georgia pecans, check out our great "Claxton Combo" deals. And by all means, order plenty of our incredible "Chocolate-Covered" Claxton Fruit Cake Nuggets!
Claxton Fruit Cake
To us, fruitcake means family.
Ever since Albert Parker started making fruitcake in his little bakery after the Second World War, Claxton Fruit Cake has been proudly providing families across North America with the delicious flavor of our first-rate fruitcake.
To us, fruitcake is synonymous with long evenings reminiscing with family and catching up with old friends. It's about one man's passion that has become an honored, family tradition and the joy we feel each time we are able to share our father's time-tested recipe with someone new.
We may have enjoyed a worldwide reputation for quality and value for over 100 years, but we still have new ideas coming out every day! This year we are thrilled to announce the addition of our Claxton Classic Supreme Fruit Cake. Featuring a hand-decorated top of heady candied fruits and decadent nuts, this cake will be a showstopper on any holiday table!
Whether it's for your mother, your co-worker, or your staff, Claxton Fruit Cake has an option for everyone. Our 2 Lb. Fruit Cake and Pecans Combo is a great party pleaser, while our Claxton Fruit Cakes in Holiday Tins make for wonderful gifts for your hardworking employees. Want to have something out for clients or as a parting gift for friends? Consider our fun ClaxSnax! ClaxSnax is a unique item that offers twenty individually wrapped 1.50-ounce slices of Claxton Fruit Cake that comes in a delightful carton. Keep them in the fridge for a slice of fruitcake any time of day (or night—we won't tell!)
Choose anything from our classic Claxton Fruit Cake—made with the rich, tantalizing flavor of Georgia pecans, candied cherries and pineapple nestled in the dense, sweet loaf—to our surprising and fragrant Chocolate-Covered Fruit Cake Nuggets that allow you to snack on the go.
Whatever you choose, you'll find careful quality and flavor in each and every purchase you make from our company.
We here at Claxton Fruit Cake are honored that you have chosen us to share in your holiday traditions.
From our family to yours—welcome!